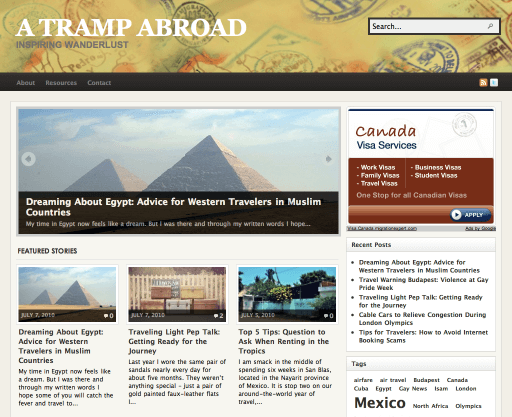 I've been toying with the idea of launching a travel website for awhile now; there are so many things that I learn every day, so many moments that remind me how far from home I am in both good and bad ways. There are a lot of travel websites out there, but most of them are either quite commercial or very personal. I am really excited for the new site,
A Tramp Abroad
, to focus on helpful, quirky tips but also feature really outstanding longer form travel writing. Oh, and our tag line is 'Inspiring wanderlust." Perfect, no?
I'll still be writing here - this will always be the place I feel like I can unload about all the more personal experiences and feelings that are niggling at me and on occasion I'll post links to any longer form pieces I write on the other website.
We've got some shorter news pieces up already along with a few bits of original content that I hope you'll check out -
It's still very much a work in progress but feedback is very much welcome. Also, we're looking for guest bloggers so if you have any ideas, please let me know.
x