I am happy to report that after lots of searching on Gumtree and one unimpressive viewing we have lucked into finding what must be the prettiest flat in London. What I quickly learned is that flat hunting here is all about acting quickly. Thankfully Dan was along when we looked at this and prompted us to act quickly. Had it been up to me, I am quite certain it would have gone to someone else.
Top tips:
1. If you find something you love, sign up for it before someone else does
2. Pictures on Gumtree are not always representative of the actual flat
3. Always be suspicious of anyone who wants money from you before you get to view the flat. This one is obvious but I was shocked at how many people asked for this.
Initially we were looking for a flat close to a good Tube line and within 30 minutes of work (Soho, Central London), we wanted a large one bedroom or a reasonable size two bedroom, safe location but one where stuff is happening (i.e. we don't want to live in the suburbs), clean and stylish flat and I really, really wanted a garden. Obviously we needed all of this to fall within a budget. By some stroke of luck, we have actually found such a place!
It is in Islington, which is North East London, which honestly wasn't on our top list of places to live. It is clean and safe and very family friendly... maybe a little bit more family friendly then we want to be at this point in our lives. Still it is about 25 minutes on the Tube to Piccadilly Circus where we will walk 10 minutes or so to get to the office. Two Tube stations are within a ten minute walk of the flat. We walked around there a bit today and there was actually quite a bit going on - lots of little restaurants and shops and even a decent music venue not too far away and Camden is a short bus ride or half an hour walk away. It isn't the hipster paradise of the east end, but really, who are we kidding?
The flat is a really large one bedroom, two bathroom conversion ground floor apartment in a refurbished Victorian School house. The living space is a whopping 700 square feet (ridiculously big for London) and the garden is ... wait for it.... wait for it ... 650 square feet, fully fenced in with a tall and private fence, landscaped with evergreens so there is colour all year around, small garden shed. It isn't shared. It is ours! There is even a parking space for Dan's little mini.
The living space is really lovely and well cared for. The conversion only happened about five years ago and the owner is the only one who has lived there and has taken excellent care of it. The windows are literally floor to ceiling and the single double bedroom and one bathroom are located on a loft overlooking the living room. Best of all, there is loads and loads of storage - again, unheard of in London. There are three full closets upstairs, a utility closet downstairs and even a closet and long cubby hole under the staircase.
Although it's in a building with other flats, we can either access the flat via the shared entrance or can use our own private entrance out the garden gate. OK, so it is at the top of our budget, but we can afford it. And we are in love with it. We move in August 15th.
These pictures are actually a good representation of the gorgeousness that is this flat:
Kitchen and living room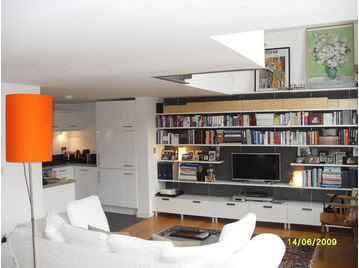 Kitchen (it has a dishwasher!!!)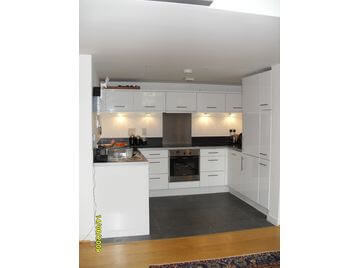 Bedroom and you can kind of see the bathroom (one of two!)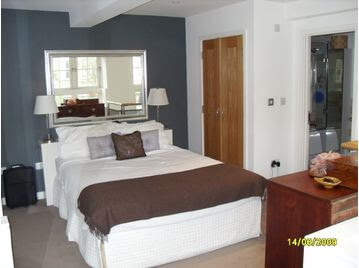 This is the view of the garden looking towards our flat - those floor to ceiling windows are ours!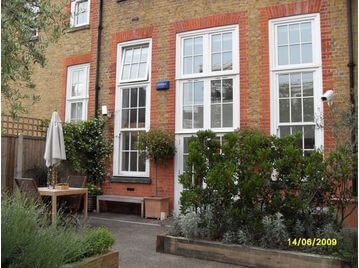 Garden view from the other direction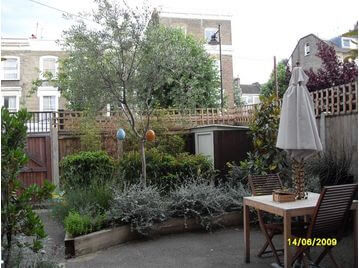 Ah, l'amour!!