I probably shouldn't post this because I'll jinx it, but after one night and one full day of looking, I think we've found our perfect San Francisco home. It's located in
Cole Valley
near the Haight, and about four blocks from one of Facebook's shuttle stops.
The rental market in this city is whack. On Friday night we went to look at a one bedroom apartment that was over $2,000 per month. It was tiny, smelly, on the ground floor, had bars on all the windows and there were about 10 people lined up to see it - and multiple who were willing to make an offer on it right there. It was also located on what must be one of the noisiest intersections in San Francisco - Church and Deboce, where all the Muni trans interchange. No thanks.
I've been warned by lots of people to go to apartment viewings prepared with a portfolio of everything a prospective landlord might possibly need to decide we're good tenants. These include: a contract showing my wage, bank statements showing current assets, references, a credit report ... practically anything and everything imaginable. This would be absolutely unthinkable in the UK where protecting your personal data is such a huge priority. But here where there are far more people looking than good places available, there's no question and if you want to rent you just need to hand it all over and hope for the best.
We're meeting the Realtor to sign the lease and hand over a check in a few hours. It's been a stressful 24 hours though as we waited to hear if we'd been approved, while passing on another really beautiful property in the meantime.
The apartment is located a few blocks from Golden Gate park and about a 20 minute bus ride over the hill into the Mission, about 4 blocks from a Facebook stop. We really like the area - it's got lots of trees and it feels like a real neighborhood but it's also really buzzy with lots of shops, restaurants and bars.
The apartment itself is just under 1,000 square feet, hardwood floors, bay windows, a working fireplace and even, if you stand on your tip toes and look in exactly the right direction on a clear day, a view of the Golden Gate bridge. It's a one bedroom, but with a big dining room in addition to the living room, we've got loads of room. There are even doors we can close to the living room so if we have guests over they'll have some privacy. The really lovely thing about it is that it feels old and Victorian, but it's also just been completely renovated so it's all freshly painted, the floors newly done, the kitchen and bathroom gutted and all replaced with top of the line, modern fixtures. There's no outdoor space, but with the park so close, we're pretty fine with that.
It's so nice to be able to picture where we're going to be!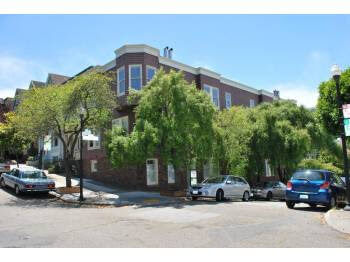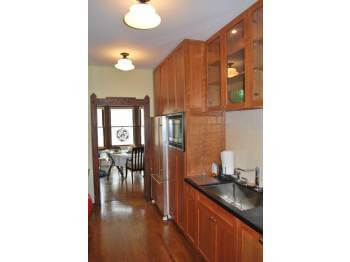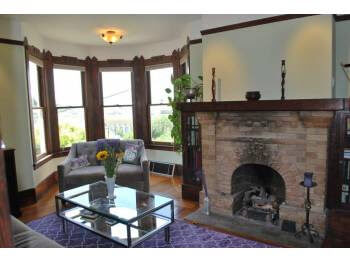 That fireplace works!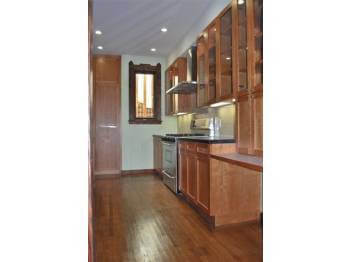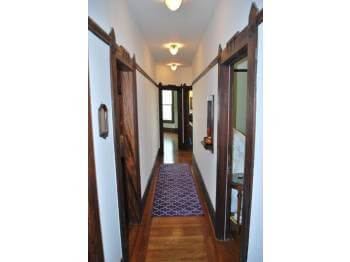 Washer and dryer - in the flat!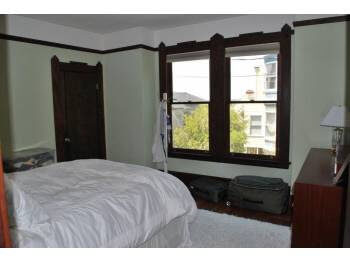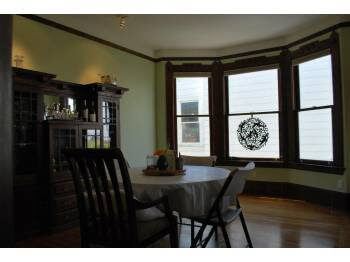 That wooden cabinet is built in and original to the building - 100 years old!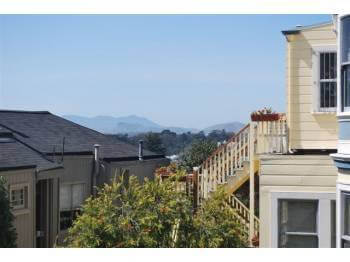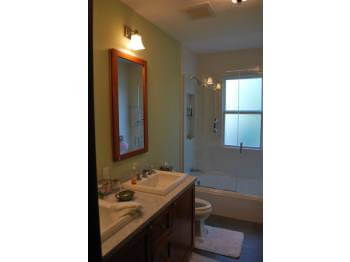 Dan gets a sink!
The building is tucked away on a quiet street with only seven units. After our location in Vancouver between two construction zones, it's going to feel so peaceful.