Hello!
I've been a bit absent here because the world is spinning out of control (in a good way) and I can't believe it is autumn. I have this whole list of things I want to tell you (like the story of how I got seasick in the middle of the lovely Monterrey Bay and attracted two grey hump backs and an entire pod of killer whales) but instead, I'll leave you with this: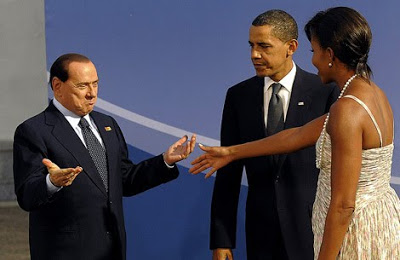 Does the look on Obama's face not say everything we need to know about the crooked, cheating Italian
Prime Minister Berlusconi
? Love it.
(Found via Dan. Image from It's Nice Tha t)