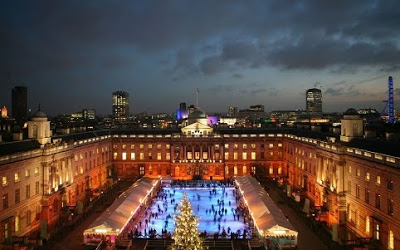 Despite that it isn't cold enough for water to actually freeze in most parts of the UK, people here are ga ga for outdoor ice skating in the winter. They set up winter carnivals (usually set in front of a beautiful, elaborate old building) with rides and skating rinks all lit with elaborate fairy lights.
This year
Tiffany & Co
is presenting the
Skate at the lovely Somerset House
in London.
Tiffany blue
is my favourite colour and the fact that, at least in their promo picture, the ice looks like an illuminated version of that colour makes me swoon just a little bit. It's enough to make me want to pay to look like a fool by falling on my ass as I pull myself around that pretty blue rink. I'll even
advance book
for the pleasure.
Thanks to
Dave Joyner
, without whom I may never have found this.
(Image from the Somerset House website)