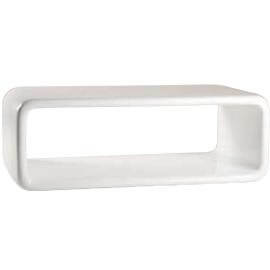 After searching the furniture shops of London high and low, we found a lovely, lovely coffee table in
Heal's
but alas, it was slightly (quite a bit, eek!) out of our budget. We didn't want to go the cheap IKEA route because we spend most of our time in our little living room. The flat is open plan so the kitchen is right off the living room and so are the patio doors leading to the garden so unless sleeping or bathing we are pretty much always there.
Our flat came partially furnished but there are still bits and pieces we've had to purchase. Other than the bed, the coffee table was probably the most important piece because, even though we do plan to buy a small dining room table and a little desk, it is likely where we'll do most of our eating and living.
We've also got a really clean, white aesthetic thing going on (
Dan
is design obsessed) and a standard wooden table would have looked heavy and out of place. Luckily we are crafty and once we got home, we found the exact same table online for almost half price, including delivery. It should be with us in 10 to 20 days. Yay!