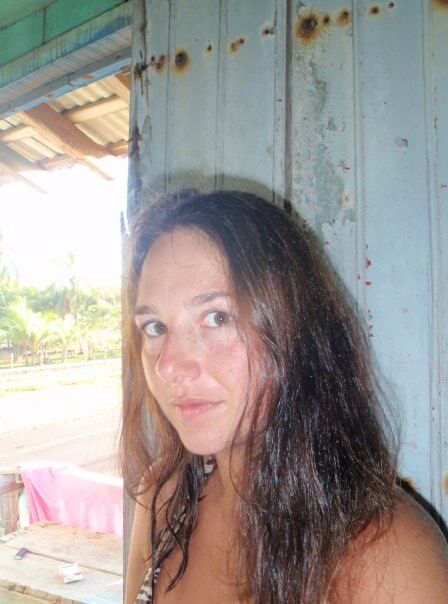 Don't let the sweet look she wears in the photo fool you. She is tough and ridiculously, inappropriately funny and probably the most bad ass person I know. She is also the luckiest unlucky person you will ever meet and, if I was ever stuck anywhere sketchy and needed someone to fight my way out with, she would be one of the top people on my list.
I met Vanessa when she was a few days old. I was about three and shortly before her birth, my family moved in next door. I'm not sure if I actually remember her parents holding her up to the window when they brought her home from the hospital, or whether I've imagined I remember it because it is one of my grandmother's favourite stories about Vanessa (our parents are still neighbours).
There are certain things I know are my own memories:
Trying to swing like mini-tarzans off her parent's deck, using the branches of a poor weeping willow tree (much to her parent's displeasure) when, inevitably, Vanessa would fall flat on her back and knock the wind out of herself ...
One morning, waiting for the school bus, when Vanessa decided to use a plank of wood perched across a small icy puddle as a tight rope, only to fall in right as the bus arrived ...
Smuggling water balloons on the school bus (we were about twelve years old) and throwing them at high school students (we were caught and hell reigned down) ...
Making 'soup' out of left overs from her mother's garden ...
Mostly I can remember long, lazy days of being young and naive, of riding our bikes up and down the alley way, protecting the lilacs from being picked and making stink weed perfume (we actually tried to sell it). I remember going out early in the morning and playing until my grandmother's voice would call me home across the dimming, lilac-scented evening. It wasn't all perfect - we also fought like crazy people but we were always, always friends.
Over the last half a year, Vanessa has been living and traveling through various parts of South America. She's worked in Costa Rica and wandered through everywhere from Nicaragua to Peru. Early on in her journey, a scorpion crawled up the leg of her trousers and stung her ass (unfortunately her Spanish wasn't great at the time so she had trouble communicating her uncomfortable predicament, or the reason she was hopping around without pants on) and a bit later, a spider decided to make it's home in her ear and had to be extracted by a doctor. Sometimes her unlucky trials actually turn out to be lucky - a few days ago she was driving through the deserts of Peru and her van broke down. As a result, she was diverted from being smack in the middle of the earthquake that recently rocked Chile.
I've learned a lot from keeping track of Vanessa's Facebook page and from the infrequent emails and messages we've exchanged. She is so good natured, so willing to accept that she can't control everything around her and as a result, she lives with an inspiring amount of joy. I hope she won't mind me sharing a recent email she sent me. The next time I travel, I'm going to print this off and carry it around in my pocket. Every time things don't work out exactly as I want and I feel a tantrum coming on, I'm going to read it and try to be a little bit more like the lovely Vanessa:

Subject: Dear Shipping God

Hola!

Well I am now in Ecuador after a nice little plane tour of Colombia. Shane [her brother] and I booked the cheapest tickets we could find to get us to Cali Colombia - which is just a short 10 hour bus ride from the Ecuadorian border.

We flew into Cartagena at about 11:30 at night - went to a great hostel for the night. We wandered around the city in the morning before our 12 noon flight to Bogota. If I ever get a chance I would love to spend more time in Cartagena it was great. In Bogota we only had a three hour lay over so we didnt want to leave the airport. But, we found a great place for a drink - Bogota Beer Company - it´s a micro brew place in Colombia and two of the beers reminded me and my bro of Bushwakker beer - a red and black and Cheryl´s Blond ale. What a nice surprise.

We flew into Cali around 5pm and went to a great party hostel. Cali has a super intense nightlife - especially if you like to salsa.

The next day we began to make our way to Ecuador. We travelled about 26 hours in a bus but it wasnt that bad. If the bus stopped everyone had to be super careful because if they decide the coffee/bathroom break is over... the bus leaves with or without you! The bus rides were routinely stopped by police and the military where we would have to get off the bus men on one side women on the other and they would ID us and search our bags. It was slightly strange at first but we got used to it.

We got into Guayaquil at around midnight on Sunday. We had to rush to get here because our van that we shipped from Panama was scheduled to be here Monday. That´s when things got messy....

Ben and Jess the other two that are travelling in the van took a different route through Colombia. Right as they were boarding their bus in Bogota their bag with their passports got stolen. They are now stuck in Bogota waiting to get temporary passports. Shane and I are here trying to figure out what we can do for the van. The van´s title is with Ben - and his name is on it - so he needs to be the one to pick it up from the port. The van can only be on the port up to 6 days after it gets there .. or else we arent really sure I'm assuming large storage fees... all I know is that when we shipped the van the company said - whatever you do dont let your van sit more than 6 days on the port in Guayaquil....we all laughed at the time because we all knew that we would be here right on time....ha ha ha - what a mess.

But on the bright side my Spanish is improving like crazy - I have had to talk our way out of a lot of problems at the borders and now this - the more Spanish you know the less bribes you have to pay.
Shane and I are working on the 'Case of the Astro Van' here but we are still having a great time. This place has super cheap food and in the centre of the city they have an iguana park. It´s free and you walk in and there are huge iguanas just walking around climbing trees... there arent any cages they are free to walk all over the place. There was also a tortoise and a lot of turtles. One guy tried to eat a banana in the park and these large iguanas ran over and started crawling on him - I would have freaked out - he had scratches but that was it.

Hope all is well and I will keep you updated on when we ´free the astro¨¨

Lots of Love,
V
I can't wait to see her again. Stay safe lady!