I have a bit of a cold and apart from reading and laying under a blanket I have some spare time today, which is my excuse for spending the better part of the last hour responding to a meme I was tagged in on Facebook. It's a pretty good one as far as memes go and has got me thinking about the various stages of musical infatuation I've gone through and what those phases represent to me.
The rules of the meme were to come up with a list of fifteen complete albums that were significant and unforgettable in some way. Not all the albums need to be 'good' or be representative to great taste, but they are the ones that stand out from the others, the ones I'll remember. My list isn't mind blowing, but I thought I would share it here, along with some accompanying Youtube videos of the songs I remember the most.
Childhood (four to seven years old)
1. The Mini Pops - Mini Pop Kids (1981)
This is one of the first albums I can remember my mom buying for me. I loved every song and it's only recently that I've been struck by how skanky those kids were dressed up and how inappropriate some of the songs were for five year olds to sing - like Tainted Love. I wanted to be a Mini Pop and for awhile whenever I would get a new album, I would speed it up to sound like the Mini Pops. Frankie was my favourite song but I couldn't find it on Youtube so I've settled for a close second, Stupid Cupid.
2. Juice Newton - Juice (1981)
For about five years Queen of Hearts was my favourite song. As I got a bit older (like seven or eight) I grew to also appreciate some of the other tracks on the album including Angel of the Morning and The Sweetest Thing. I still think of that album as classic and after ten or eleven drinks, I've been known to belt out a Newton hit or two at karaoke.
3. Michael Jackson - Thriller (1982)
This album is responsible for my realization that Santa Claus doesn't exist. For Christmas one year (I think I was five or thereabouts) my mother bought me Thriller on vinyl and Santa bought me a small child's record player. I remember asking my mother how she could have known that Santa would bring me a record player unless she was Santa. The jig was up.
I love how this video begins with a disclaimer from Jackson - then a devout Jehova's Witness - that it doesn't endorse his belief in the occult.
4. Cindy Lauper - She's So Unusual (1983)
Again, I received this around the same time I got the Mini Pops and even today I love it. Classics like Time After Time, Girls Wanna Have Fun, Money Changes Everything and She Bop. Best of all though was Cindi Lauper's whole look. Even at five or six years old I wanted to dye my hair orange and yellow and wear multi-colored crinolines.
Honourable Mentions: Live at PJs by Trinny Lopez.
Childhood (7 to 13 years old)
5. Harry Belafonte - Calypso (1956, I discovered it mid-80s)
I spent summers at our cabin at Regina Beach as a child and on the drives out, my grandmother would often play this album. I rediscovered it in the early 90s when bits of it were used in Tim Burton's Beetlejuice and even today it's one of the albums stored in its entirety on my iPod.
6. Johnny Rivers - The Best of Johnny Rivers (1975, I discovered it mid-80s)
Secret Agent Man, Midnight Special and Seventh Son. Oh yes.
7. Patsy Cline - The Patsy Cline Story (1963, I discovered it late-80s)
I fell in love with Patsy Cline after seeing her bio-pic. Juice Newton, Dolly Parton and Johnny Rivers aside, I've never considered myself a big country music fan. Apart from the classics like Johnny Cash, listening to country was almost forbidden in my house so my grandmother was none too pleased when my mother bought me the Patsy Cline tape. It is a great album though - Crazy, Walking After Midnight, Blue Moon of Kentuky - and it's still one I listen to occasionally on my iPod.
8. Guns and Roses - Use Your Illusion I and II (1990)
Technically two albums and probably not the GNR one would expect on a best of list -
Appetite for Destruction
is the more obvious choice. When I was in grade eight I received Use Your Illusion I or II as a gift from someone who had obviously never listened to it and though it didn't really fit in with the poppy stuff enjoyed at the time, I became almost obsessed with it. This was around the same time I thought I wanted to get my belly button pierced. I bought the second volume as soon as I could and listened to both - a lot.
Honourable Mentions: Tiffany by Tiffany, Born in the USA by Bruce Springsteen, The Dirty Dancing Soundtrack, Greatest Hits by the Bangles, Hormonally Yours by Shakespeare's Sister.
Adolescence (14 to 19 years old)
9. Sarah McLachlan - Fumbling Towards Ecstasy (1994)
Sarah McLachlan became one of my favourites throughout high school. After discovering Fumbling, I bought all of her older music and loved most of that too. I still think this is a good album though I can't say the same for the stuff she's released in the last ten years.
10. Hole - Live Through This (1994)
I loved Nirvana's Nevermind but if I had to choose between it and Live Through This, I would have to pick Hole. I am not a Courtney Love fan and have never been someone who aspired to look and act like a junky but something about the angst of this album resonated with my teenage self and it fed some deep dark part that I mostly kept hidden. I loved Olympia (Rockstar) the most.
11. Tori Amos - Little Earthquakes (1992) and Under the Pink (1994)
Yes, technically that is two albums - but I can't pick one and I can't seperate them. I still love these beautiful, sad songs. Last year I saw Tori play live in London and although she was good, it was disappointing to me because what I wanted more than anything was just her under a spotlight playing her piano. Her new stuff has a lot going on and I think she's at her best when she pares things down. My favourite song by Tori is Precious Thing and my favourite line: "Where the pretty girls are/those demi-gods/with their nine inch nails and little facist panties tucked inside the heart of every nice girl" and when Tori sang the line live, I almost cried.
Honourable Mentions: Nevermind by Nirvana, The Very Best of Otis Redding by Otis Redding, Jagged Little Pill by Alanis Morrissette, Tragic Kingdom by No Doubt.
Early Twenties
12. Ani DiFranco - Not A Pretty Girl (1995)
My early twenties were devoted to cultivating a devotion to the music of Ani DiFranco. She made me feel tough and independent when I felt overwhelmed and a bit lost.
13. Fiona Apple - Tidal (1996)
I've been a bad, bad girl. This was very much how I felt my first few years out of highschool.
14. The Pixies - Death to the Pixies (Limited Edition Bonus Disc, 1997)
This is such a good album.
Honourable Mentions: The Reality Bites Soundtrack, X/O by Elliott Smith, You Were Here by Sarah Harmer, Everybody Else is Doing It by the Cranberries.
Post-Early Twenties
15. Arcade Fire - Funeral (2004)
This album was a gateway album to so much amazing music for me. I credit them with my love for Stars, Broken Social Scene, Neko Case and so many others. Their new album -
The Suburbs
- also wonderful. One of my favourite songs is Anthem for a Seventeen Year Old Girl and I don't think I would have ever found it without first finding Arcade Fire.
Honourable Mentions: Heart by Stars, You Forgot it in People by Broken Social Scene, Fever to Tell by the Yeah Yeah Yeahs, The Best of Etta James by Etta James, Arular by MIA, Middle Cyclone by Neko Case, Rumours by Fleetwood Mac.
Want to play? What music defined the different phases of your life? Leave a comment.








"If I could have back all the time I'd wasted, I waste it again and again and again."
Beautiful
.









Beautiful, haunting, crack-pot and creepy video for
Lemonade
by Cocorosie.
The first singer sounds so much like Bjork to me! Speaking of which, have you seen the house the Prime Minister of Iceland recently gifted to her? So lonesome and lovely: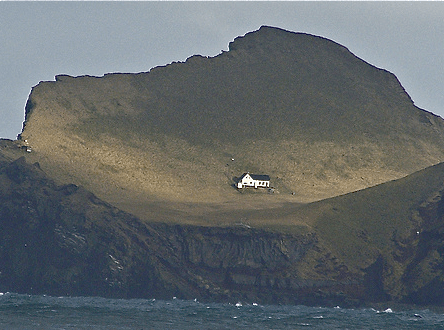 Image via
The Independent








Last night
Dan
and I saw
Fleetwood Mac
play at
Wembley Arena
in London. They are doing two shows here are part of their big reunion tour and with their
Rumours
line-up (apart from
Christine McVie
) it seemed worth the exorbitant price.
There was no opening act, but that was ok because Fleetwood Mac played for over two and a half hours - a feat considering they are all in their late 50s or older and
Lindsay Buckingham
and
Mick Fleetwood
played like maniacs the entire time.
Stevie Nicks
has always been the star of Fleetwood Mac for me, second only to the torrid emotional history of the band, which, even now, seems to inform so much of their chemistry on stage. Even though it probably isn't so, it feels like every lyric about lost love is about the sad end to the relationship between Stevie Nicks and Lindsay Buckingham. The way they move around and connect with each other on stage is either a very clever act to engage the audience or they made a terrible mistake all those decades ago when they broke up.
Lots of people would say that the personal history of people in a band shouldn't matter, but Fleetwood Mac's music is saturated in a kind of emotional regret and angst, somehow made all the more poignant because they are old and they can't go back.
Apart from a few embarrassing moments when Lindsay Buckingham got a little too 'rock star' on his guitar solos, Stevie Nicks twirling around in her strange goth bird-wing dresses or Mick Fleetwood trying to turn a long drum solo into a kind of weird rave song with synthesizer and all, it was a great show. My favourites were and will probably always be
Landslide
,
Dreams
,
Rhiannon
and
Sara
. And watching the poignant exchanges between Buckingham and Nicks as she sang "I'd go anywhere, anywhere, anywhere ... when you build your house, well then call me home."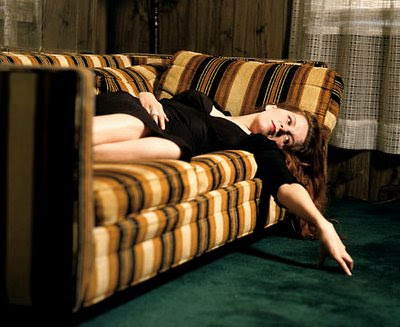 If I could pick one super power it would be to sing like
Neko Case
. Recently I've been obsessed with her newest album
Middle Cyclone
and just over a month ago when she was in concert at the
Barbican
in London, I was pleased to find her voice just a hair-raisingly beautiful in person.
From the song
Next Time You See Forever
,
I hear the tiniest sparks in the tenderest sound.
Diving music, drowning the sound,
Waltzing with the hairs upon my arms.
And your fire flood alarm, and you tremble, and you stumble, and you scrape up your palms.
I can't stay here to hold your hand.
I've been away for so long
I've lost my taste for home, and that's a dirty, fallow feeling ...
The next time you say forever, I'll punch you in the face.








Photo of Yoko Ono and John Lennon used with permission from Ken Ross.

©

Ken Ross

Dear Internets,

Last night I went to a gig in the middle of nowhere North East London at a tiny little club called

Cafe Oto

to watch Sean Lennon's new band,

Ghost of a Saber Tooth Tiger

(

GOASTT

) perform. The evening began rather miserably.

Dan

's back was and is bothering him and I had a twisted ankle. It was windy and rainy and to end all things my

stupid bank

put a security flag on my debit card so I found myself in long gone nowhere without access to any money. After a painful half an hour on the phone with the bank, finally something was sorted. I am thinking of changing banks, but that is for another post.

We were wet, we had gravel in our eyes and we were somewhere that seemed to only have tiny dirty looking restaurants with stained laminated pictures of their food (never a good sign). At one point I said to Dan, "If I get stabbed tonight, I'm blaming you!"

Happily things got progressively better from there and no one was shanked. We met up with two friends in a Turkish themed restaurant for some beer and mediocre hummus and then over to Cafe Oto where Sean Lennon was debuting his new act to a sold out, intimate London audience. How

Dave Joyner

consistently manages to get his fingers on these kinds of tickets is beyond me, but if you want to see anything cool on almost any given night of the week, he's your man.

Though I was curious and a bit excited to see Sean Lennon, I was completely star struck when I saw that his mother Yoko Ono was also there, sitting a few feet away from me. There is this history of music and whether you like her or not, Yoko played a pretty significant role in it. Not to mention that I am an art geek and she was doing ridiculous performance art before almost anyone else. She is tiny - maybe just over five feet tall and small boned like a little bird. She was wearing a black suit and a little black top hat with gigantic black bug sunglasses (though it was darkly lit in the venue). She always had an entourage and despite the fact that the woman is an icon, she wasn't bothered much for autographs or pictures, though this was a hipster London crowd who were probably cultivating their "I don't give a fuck" vibe.

Though I would have died to have a picture with Yoko, I just couldn't bring myself to ask her (or her bodyguard) if it was OK and it was just too dark in the venue to get a good on the sly picture.

GOASTT was a sweet little folky act consisting of Sean Lennon and his girlfriend Charlotte harmonising with one another in these little poppy ditties. The push behind the Lennon name is what has clearly made this act viable, as I imagine in almost any large city in the world there are dozens of beautiful kids doing exactly the same thing. Still, it was nice.

It was pretty obvious that Sean Lennon came alive when playing the guitar but unfortunately the dynamics of their group doesn't allow him much room for this. On the two occasions when he did a solo, Charlotte (who doesn't seem to play anything except for the tambourine) seemed a bit awkward and lost.

Here is a very dark and grainy video of one of their songs last night:

At the end of the night, the unthinkable happened. The crowd seemed to want more and there wasn't any more to give from the scheduled acts so Yoko Ono decided to get up on stage and do an improvised song, her son accompanying her on guitar. In true Yoko style it features guttural yelling and screaming the words "I feel bad" on repeat. Absolutely brilliant. Here is a snippet (again very dark and hard to see):

Seriously, an amazing and unforgettable night in London.