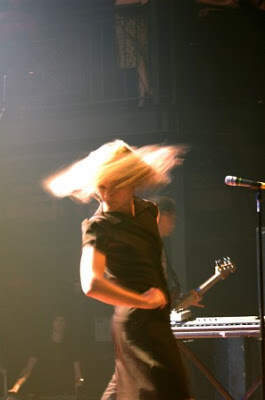 Last night I saw
Metric
play at the
Electric Ballroom
in London's Camden Town. I didn't have high expectations because, in my limited experience, the sound at the Electric Ballroom is less than stellar but mostly because when I saw Metric a few years ago they were kind of shit. Things have changed. Not only do they now sound great, but Emily has clearly been taking some lessons in being a rock star or has been practicing a lot in front of the mirror. The girl has moves. My fellow Canadian danced her ass off for nearly an hour and a half and sang with a voice that moved easily between being sweet and pure to screechy and angry in the best possible ways. My only complaint is the few times she stopped to talk and kind of rambled about genius and the Beatles and the Rolling Stones and how Metric endeavours to be the best, most legendary band of our time... Blah... Blah... Holy cow Emily! Stop talking! Luckily it only happened a few times during the show and when the music started up again she was so good that it was easy to forgive her foibles.
To be fair, I think she was a bit (a lot) wasted, a fact that was confirmed when she began to take swigs straight from a bottle of champagne. Still, there was no puking or slurring and no one fell off the stage or anything. A good time had by all.
I am happy to say that the show last night was everything that
Synecdoche
wasn't - exuberant, energetic, colourful, fun... Basically it was everything a good rock show should be. I recommend checking out their new album
Fantasies
if you haven't already. It's on Spotify, Itunes and I think you can hear a good sample on their
My Space page
.

(Image via Boboroshi. You can vote for this image in JPG Magazing by following the link.)