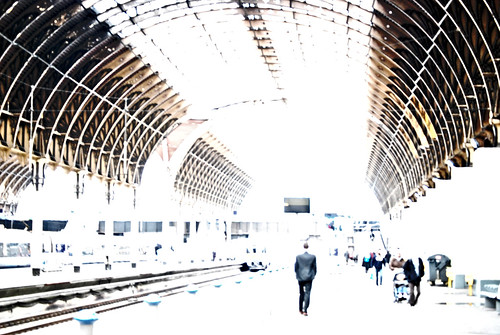 Last week while in London I needed to pick something up from someone arriving from Cardiff on an early train at Paddington Station. I don't think I've ever been to Paddington before and really my only frame of reference is the
bear
and his human friend Christopher Robinson.
I love train stations. I love the coming and going, the bustle, the excitement people feel when leaving or arriving somewhere. In Europe many of the train stations have amazing architectural features -- high arched ceilings, ornate glass and iron work -- they are lovely. I also love train travel and have promised myself that on the next journey to London it will be via train instead of the more economic MegaBus, which is just as bad as it sounds.

My favorite train stations are:

1. Gare du Nord in Paris
2. Grand Central Station in New York
3. Paddington (since last week anyhow)
There used to be a passenger train that went through Regina but was sadly discontinued -- the beautiful old terminal turned into the shell for a casino. There is still train service in Canada and I would absolutely love to travel across the country that way. It would be an amazing way to see the landscape I think -- though strangely expensive.

A few weeks back I bought a Nikon D60 camera with the intention of learning how to use the manual features. This was really the first time I've taken pictures using the manual setting (as opposed to only controlling the shutter speed and aperture). I deleted as many images as I kept and it was really a trail and error process of me adjusting things over and over until they looked OK. I don't think I am a natural photographer but I do enjoy trying.

For the complete Paddington Set click here.
PS: It is sunny in Wales today! Sunshine!!