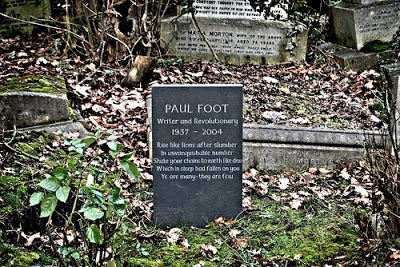 Last week, Dan and I spent a cloudy Sunday afternoon exploring the the east side of
Highgate Cemetery
. It was an amazing, forgotten world of stunning and occasionally disturbing tomb stones. I was most touched by
Paul Foot's
simple grave, which is an excerpt from
Percy Bysshe Shelley
's
The Mask of Anarchy
:
Rise like lions after slumber
In unvanquishable number
Shake your chains to earth like dew
Which is sleep had fallen on you
Ye are many - they are few
Other notables are the graves of
Karl Marx
and
Douglas Adams
.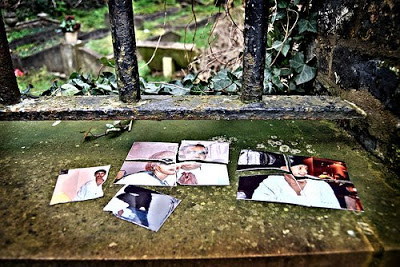 One of the stranger sites was the above series of pictures featuring a woman that had been torn up and then carefully set back together near the entrance to the cemetery. Very strange. There had also obviously been some mischief around the cemetery, which could be seen through acts like the positioning of a damaged angel statue (it had no head) on top of a grave on it's back, as though it were a corpse. There are, of course, plenty of stories about the
ghosts and vampires of Highgate Cemetery
- including a crazy story about a group of students who got caught up in it in the 70s.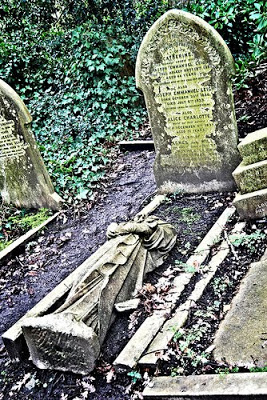 We didn't see any ghosts, but it was a spooky experience. I am quite keen to go back and explore the west side of the cemetery, which apparently has Egyptian tombs and catacombs. It costs £3 to get in either side of Highgate Cemetery and admission goes towards an organisation charged with sustaining and protecting it. Well worth a visit.
You can see more photos of the cemetery on my Flickr page,
here
.