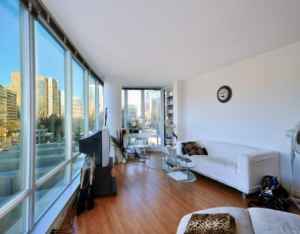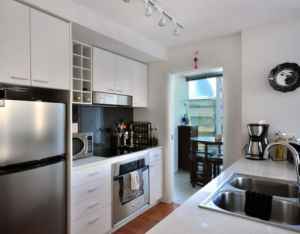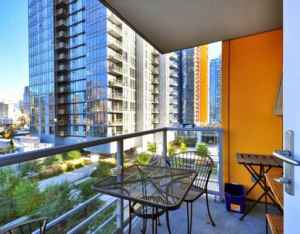 It's been a crazy few weeks! We flew into London and in the two weeks we were there we spent time everywhere from Ystradgynlais and Cardiff to London, Hitchin and Bath. It was the very definition of whirlwind and was genuinely so nice to see everyone. We had a seven day stretch where we didn't sleep in the same bed for more than one day in a row. Exhausting and we both ended up a little bit under the weather from all the mayhem.
Also, did I mention we got hitched in Bangkok on March 21st? No? Well we did and it was lovely and casual and intimate and exactly what we both wanted. I may share a picture later on.
We would have spent more time in the UK, but things started happening very quickly on the job front for me and so we really had to move up our ongoing flight to Vancouver, which is where we are now. We got in on Wednesday night and in the last three days we've spent our time trolling Craigslist and wearing our soles thin house hunting.
The market here is insane. The prices range from the lower end ($1,000 per month) to the high end ($10,000 and up) and the properties are just as diverse. It's a big city and having Vancouver on a listing can mean anything from right downtown to an hour away in Burnaby. We knew we wanted to be either downtown, in Kitsilano, Granville or the Mount Pleasant/Cambie area and we also knew that we wanted at least a two bedroom so that we could accommodate guests and also because we both work from home, it's really important to have enough space and light to want to spend all our time there. Add to that the reality that we intend to move to San Francisco at the beginning of October and thus can only sign a five month rent and you have one tall order.
We've looked at basement hovels and beautiful but tiny downtown apartments, we even looked at an apartment owned by a retired man who is going to Greece for four months. It had an amazing view but was absolutely tiny and it would have meant living with his collection of tapestries and antiques. We looked at so many things, nothing perfect and then we ran into two really great options, both in the same building.
We chose one, filled out the extensive application form (wow! I had to provide more information to qualify for this apartment than I had to provide for my US work visa!) and kept our fingers and toes crossed. We knew it was possibly a long shot because the apartment was extensively shown, but man, we really wanted it.
The call just came through about 15 minutes ago that our references were good and we've got the place. It really feels like winning a lottery in a market like this. The apartment is absolutely lovely (pictures are above) and includes:
1000 square feet of space (you have no idea, this is BIG for Vancouver)
2 bedrooms, 2 bathrooms
A small deck (it's only on the 6th floor, so the view isn't amazing, but with floor to ceiling windows, the light in the apartment is)
1 solarium and one large closet that they like to call a den in these parts
granite countertops and stainless steel appliances
washer and dryer in the apartment
the building has 24 hour facilities that are included: a big swimming pool, a well equipped fitness center, a hot tub, concierge, big screen movie room and game/party room with a pool table.
It's also downtown, about five minutes walk from Yaletown and about 10 minutes to the buzzy Robson area and very near to a range of public transportation. Apart from the fact that we would have liked to be higher than the sixth floor, it's pretty effin' perfect.
We're meeting our new landlord at 1 PM to sign the contract and pay the deposit. Everyone, keep your fingers and toes crossed that it doesn't fall through.
I'm flying out to Palo Alto tomorrow for two weeks of amazingness and my goodness, it would be good to know we've got our long term living arrangements sorted before I get on that airplane!