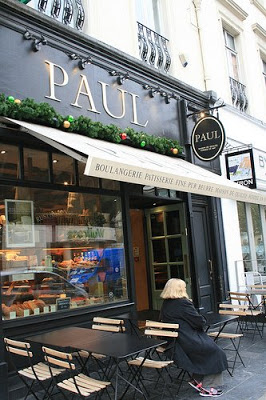 Dan and I just had lunch in a patisserie called
Paul
(Soho branch). Apparently it's a chain, though it does genuinely look like a cute little Paris shop with its red banquettes and pretty looking sandwiches and pastries.
We each ordered a sandwich and a Sprite to share. At over £4 each, the sandwiches were quite a bit more pricey then the ones at
Pret a Manger
, another very popular local chain. The Sprite was warm and the baguettes were hard little bricks. It was actually difficult to eat the sandwich without scraping off the insides of your mouth and my jaw ached from the effort it took to chew. The fillings were mediocre and sparse at best.
When we were walking out Dan said thanks to the woman behind the counter. She barely mumbled a response and was something on the opposite end of the spectrum from pleasant. Basically, there was nothing good.
I won't be eating there again and I don't recommend you do either.
(Image: Talk of Tomatoes)